Dr. Jonathan Vigdorchik answers common questions about same-day hip replacements, how they work, and they can help you get back on your feet quickly.
Question: What's the process for a 1-day hip replacement?
Dr. Vigdorchik: We appropriately screen patients to make sure that they don't have any medical problems. Then they're selected for this program.
First they go to a joint replacement class and physical therapy before surgery so that we can ensure that they know how to walk and use crutches or a walker post-surgery.
Patients are also required see the anesthesiologist prior to surgery. When they come in on the day of surgery they have an operation that lasts about an hour to an hour and a half. Patients get set up with the physical therapist and they can walk after surgery. At the same time all other pain medications are ordered. We'll make sure that they're medically safe to be sent home. We send them home and do a follow-up phone call the next day as well as providing nurse visits and physical therapy visits at their house.
The surgery is a minimally invasive surgery that is done, in my practice, with computer or robotic assistance which minimizes trauma after surgery and increases the speed of recovery.
The patient is given a long-acting pain medication as well as a long acting injection that lasts for three days.
Q: What conditions does a 1-day hip replacement typically treat?
Dr. V: Anybody undergoing hip replacement who is healthy and motivated.
Q: How do I know whether or not I need a hip replacement and whether I should give you a call?
Dr. V: Anyone who has hip pain should come see me.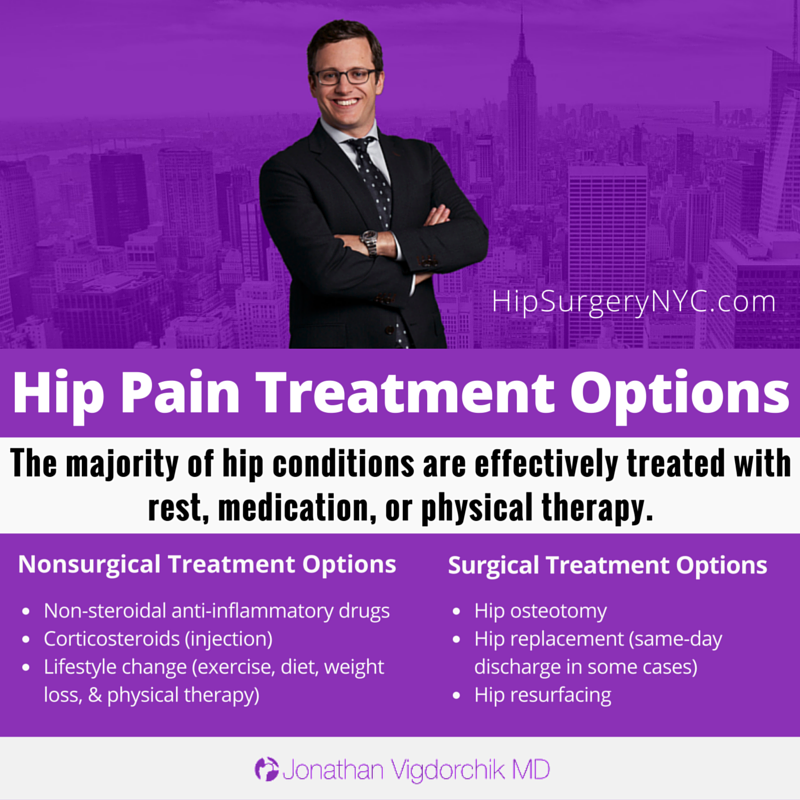 Q: What's the difference between a 1-day hip replacement and other hip replacement procedures?
Dr. V: There is no difference in the procedure but there is difference in the speed and aggressiveness of the recovery period.
However, same-day hip replacements have to be the right motivated patient's as well as the right surgeon to do their surgery swiftly with minimal tissue trauma.
Q: What are the benefits of a 1-day hip replacement?
Dr. V: You get to rest in your own bed, avoid the hospital which is full of sick people and bacteria, easy access to pain medication because they are on your nightstand, and everybody loves to be in their own home recovering.
Q: Who is a 1-day hip replacement right for?
Dr. V: Young, healthy, active patients who want a rapid recovery. No medical problems. Must complete our pre-qualification class.
Q: Who is NOT a candidate for a 1-day hip replacement?
Dr. V: People with sleep apnea or other medical problems that might need monitoring overnight.
Q: How long does the actual hip replacement surgery take (within the 1 day)?
Dr. V: About 1-1.5 hours.
Q: How long does it take to recover from a 1-day hip replacement procedure?
Dr. V: Two weeks on crutches, another few weeks with a cane, and by 4-6 weeks they'll be doing great. It's the best for the most motivated patients because they recover very quickly.
If you're experiencing hip pain and you're in the New York City area, make an appointment with Dr. Vigdorchik today.