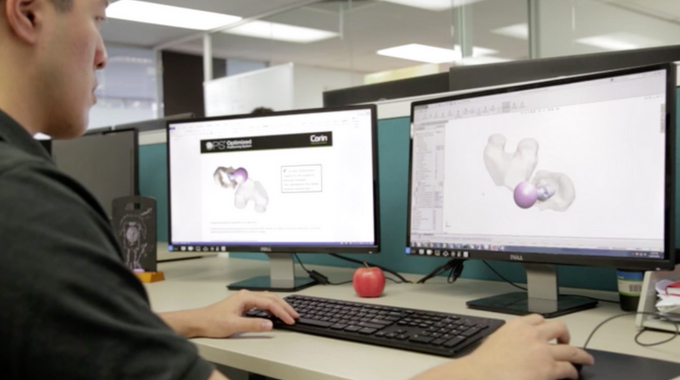 Joint replacement surgery involves the removal of a damaged joint and replacing it with an orthopedic implant. Whether it is for a hip implant or knee implant, orthopedic implants are designed to replicate the feel and function of a natural joint. Since being introduced to the United States more than fifty years ago, joint replacement surgery has grown by leaps and bounds through technological innovations that improve accuracy of implant placement, improve alignment of components, and utilize less invasive approaches.
Computer assisted and robotic assisted joint replacement can be referred to as computer assisted orthopedic surgery (CAOS), image guided surgery, or surgical navigation. Regardless of what you call it, it's a great asset to orthopedic surgeons.
CAOS is a surgical technology that assists surgeons by creating and displaying images of the replacement components in relation to the bones and ligaments of the joint that they're replacing. Overall, it allows for better visualization of anatomy, which is particularly important when using minimally-invasive techniques. It also provides the surgeon with control, feedback and the ability to correct potential errors during the surgery.
How Do Computer Assisted Joint Replacements Work?
CAOS is made up of two basic components, the camera and the computer program.
1. Camera
This special camera is designed to see the surgical joint and limb and create a picture of the hip or knee being replaced.
2. Computer Program
These computer programs integrate the images taken by the camera with surgical information and assist the surgeon during the operation.
CAOS is able to use actual images of the joint taken via X-Ray, ultrasound, CT, etc., or it can create virtual images of the joints' damages. The surgeon gives the camera and computer the information it needs regarding the anatomic landmarks of the joint and limb, then that information can be transmitted in different ways.
Some CAOS systems use special cameras to identify and record the position of photo reflective spheres or infrared light emitting devices. Some other systems use ultrasonic devices. The surgeon then uses the computer generated information and images to reconstruct the damaged joint and limb.
These navigation systems help surgeons plan the procedure before surgery, provide comprehensive information about a patient's joint during surgery, and give visual and statistical feedback to aid in the alignment of components during surgery. Computer-assisted surgery is often likened to a GPS for surgeons because of the way it enables surgeons to see inside the patient's body as they operate.
Patient Benefits of Computer Assisted Joint Replacements
In 2010, a study was conducted consisting of 1,000 consecutive CAOS knee replacements performed over a five year period of time at Mercy Medical Center in Rockville Centre, NY. This study determined that CAOS procedures result in better leg alignment, less chance of infection, and a far lower early failure rate than that of surgeries performed conventionally.
This is very important because alignment of the artificial joint is the key factor in a successful replacement. Using conventional techniques, the best surgeons achieve alignment within three degrees 50 to 80 percent of the time.
During this study all 1,000 procedures over all 5 years achieved alignment within 3 degrees 100% of the time. There were also no early failures and no revision operations secondary to misalignment, instability or aseptic loosening in the studied patients.
Patients undergoing a computer assisted joint replacement surgery will enjoy:
Accuracy
Less Chance of Infection
Lower Early Failure Rate
Reduced Joint Wear
Extended Implant Lifespan
Reduced Blood Loss
Less Scarring
Faster Recovery Time
Who Is Computer Assisted Joint Replacement For?
CAOS is especially helpful in patients who have specific bone deformities and/or hardware from previous surgeries because of how accurately it allows the surgeon to align the bone and implants.
However, this technology is great for any joint replacement patient looking for less scarring, a shorter recovery time, and more use out of their implant.
Ready for the next step? Make an appointment to discuss computer and robotic assisted surgery options.